Filter by Category
Regional Manager
T-3000 product insight and application
with Tom Beebe

Next available session starts Feb 2, 2023 at 9 am
2 additional sessions through Apr 5, 2023
This course focuses on introductions and processes of new products.  Content includes rudimentary refinish tasks such as surface preparation, product application, and equipment best practices. Format includes classroom instruction, hands on exercises and discussion.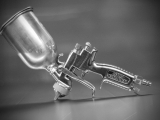 T-3120 Painter Certification - No Mix Refinish System
with Tom Beebe

Next available session starts May 16, 2023 at 8 am
2 additional sessions through Jun 7, 2023
This course certifies the 6H Rule and proper use of the Transtar No Mix Refinish System and software.  The focus is on selection of product and materials, as well as proper methods and process for repair/refinish.  Covers tasks such as surface preparation, product selection, color retrieval, mixing, application, equipment, and best practices.